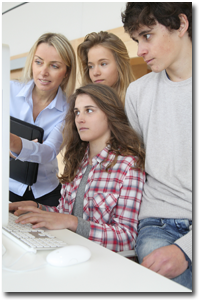 The Center for Educational ReVision® has developed and will continue to provide Advanced Placement® Incentive Programs ("APIP").  This pioneering initiative, led by Peter O'Donnell of the O'Donnell Foundation in the early 90s, focuses on increasing participation in Advanced Placement® (AP®) and Pre-AP® classes in Math, Science, and English.
In addition to the traditional AP Incentive Program, CerV® has added the fourth core discipline of AP Social Studies to the incentive model. Also, a Global Languages program with special focus on AP Spanish Language has been added to the program in participating districts in order to increase the enrollment of all students but particularly Hispanic/Latino students who have been traditionally underrepresented but who have great potential and acumen for succeeding in AP courses. Qualifying on an AP Spanish Language exam typically results in eight to fourteen hours of credit at many universities, placing students on a direct path to college matriculation, participation, and graduation.
Beyond the current APIP program and pilot programs in Social Studies and Global Languages, CerV is in the process of creating programs for the general student population. The organization is working with board members and industry thought leaders to create a pilot program aimed at improving student achievement in all levels, disciplines, and performance, beginning with the new STAAR™ End-of-Course exam in Texas and rolling out Algebra I and Biology training segments in 2012. The purpose of all incentive programs remains consistent: directly and positively impacting teacher performance and student achievement.